About the Author of this website, Ron Ramirez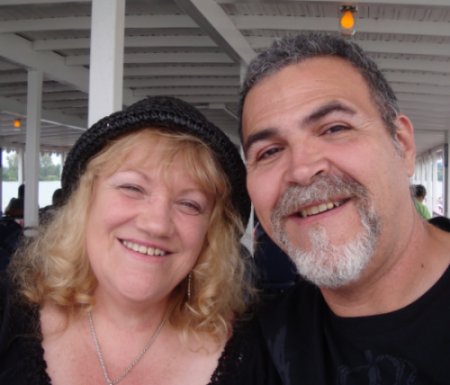 Since 1974, at age 14, Ron Ramirez has been interested in antique radios. James A. Fred's "Antique Radio Corner," a regular column in the old Elementary Electronics magazine, served as his introduction to the hobby. He graduated from National Radio Institute (NRI) in 1984 with a diploma in Radio-TV Servicing. (Unfortunately, NRI, which had been around since the early days of radio, went out of business in 2002.) He immediately put that new diploma to work as a sideline business, repairing televisions and radios when he was not on the air, working at the local radio station as an on-air personality, producer and technician. Unfortunately, the inner workings of televisions soon became miniaturized to the point that they could no longer be serviced profitably, and he gave up this sideline - for awhile.
Subscribing to Antique Radio Classified in 1987, Ron decided that he, too, could write articles - and did so for a number of years. These articles became a sort of training ground for what was to come next.
In 1990, Ron decided to move away from the 1920s battery sets he had been collecting, in order to concentrate his collecting activities on Philco radios exclusively. The word soon spread, and whenever he attended a radio swap meet, he was often greeted with "Here comes Mister Philco!" The name stuck, and as you now know, the title was not self-anointed.
Soon becoming frustrated at the lack of information available on Philco at the time, Ron decided to write a book on Philco in 1990. It was a monumental task, and through the help of many fellow collectors, without whose help the book would not have been possible, it became a reality in 1993.
With the initial sales of the Philco book, Ron re-entered the realm of electronic service - only this time, it was servicing antique radios as a sideline business. It became a full-time venture for awhile, before he rejoined the workforce and decided to go back to servicing radios part-time. Since then, he has stopped restoring radios for others in order to concentrate on restoring his own sets - some of which have patiently waited for several years to be restored.
Ron maintains a modest collection of Philco radios, along with a large library of Philco paper material which has proven invaluable in his research. This website is the product of a great deal of work studying and researching the subject of Philco and its prinicpals, some of whose stories might otherwise had been forgotten by history.
Ron has been designing web pages since 1997. At one time he maintained websites for Chevytrucks.org, West-Techservices.com, and Thevoiceofmusic.com. These days, however, he only maintains Philcoradio.com.
In addition to the Philcos, Ron also has a small collection of Aladdin kerosene lamps, a little bit of breweriana (some signs, prints and bottles), and a few lithographs from the Victorian era.
Ron has lived in a few different parts of the country. Born in Kansas City, Missouri, he moved to Kentucky when he was 12. He finished growing up there and stayed in the Commonwealth until 2002 when he moved to Indiana. After a short stay in Newburgh and several years in Evansville, he now resides in Ferdinand, Indiana and works in the Information Technology field.