WELCOME to the Internet's leading resource for Philco history and reference! Philcoradio.com is a treasure trove of historical information concerning the former Philadelphia Storage Battery Company and Philco Corporation.
The purpose of this website is to document all Philco home radios manufactured between 1928, the year Philco began to manufacture radios, and 1960, which is the year before Philco nearly collapsed and was bought out by the Ford Motor Company. (The Philco trademark is now owned by Philips Electronics.) You will find the most comprehensive history of Philco ever presented anywhere on this site, written by the man who has admired, studied, and researched Philco for over 20 years - Ron Ramirez, who is the principal author of the 1993 book Philco Radio: 1928-1942 (which also includes a chapter written by 1928 Philco expert Michael Prosise). The History of Philco in this website is much more comprehensive than that found in the book, and includes many historic photographs which are not available elsewhere.


Do you want information about Philco? You will find plenty of it here! The Knowledge Base contains everything you could possibly want to know about Philco. It incorporates a comprehensive and newly expanded photo gallery of Philco home radios, with concise information on each model including original selling prices and production figures (where available); identification, age, and value guides; service tips including the Tech Section for those persons who enjoy repairing and restoring their own vintage radios and the Restoration Notebook, which includes a number of articles on restoring specific sets; schematic diagrams; a set index; and a section on Philco auto radios.
A special section on Philco radios sold and/or manufactured outside the USA is now available. Here, you will find photo galleries and information about Philco sets in Canada, the United Kingdom, Australia, and other areas.
And, unlike some websites that charge a fee to access some, most or all of the information they hold, Philcoradio.com is completely FREE to ALL! (Donations are accepted, and appreciated, to defray the costs of hosting this site; a link to donate may be found below.)
This site also hosts the Philco Phorum, the place to meet and discuss Philco radios with like-minded individuals. Here you may find answers to the questions you may have about Philco sets. You may also place for sale and wanted ads in the Phorum for Philco and non-Philco radio items.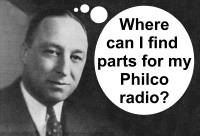 This question is asked more often than any other. There is an easy answer to this question, however - simply take a look at this site's Resources pages. On these pages you will find a number of vendors, both individuals and businesses, who can supply almost anything you may need to make your vintage Philco perform like new. This includes tubes, wire, knobs, dial scales, escutcheons, pilot lamps, phonograph styli and accessories, various hard to find parts and accessories, even up to and including new reproduction cabinets for your Philco radio chassis! And they are all at your fingertips on two pages. One is indexed in alphabetical order by vendor; the other is indexed in order of product or service offered. Check it out!
If you are looking for books about the vintage radio hobby, you will find a number of titles in the Bookstore, which is presented in conjunction with Amazon.com. You will find the link to the Bookstore under Resources in the navigation bar above. Also see our links to other sites and a comprehensive Site Map. And if you still can't find what you are looking for, you can use the Search box which is now at the upper right corner of every page on this site!
NEW! Stewart Schooley's do-it-yourself photofinish repair techniques are now hosted by Philcoradio.com! Click here to see these pages.
Please consider making a donation to this website to help defray expenses. Thank you!
Looking for quality service information to help you restore your Philco radio?
Visit this website:


Are you a former Philco Tech Rep or a relative of one? Visit this website:

Powered by
WebRing
.
From West-Tech Services:
NOTICE
Due to retirement and health issues, it's time to sell our profitable business, West-Tech Services. Thanks to all of our valued customers for all of your support the last 9 years. Call or email for details, 740-581-0945 or westtechservices@yahoo.com.
West-Tech will continue its fine services during this process.
Thank you, Gib & Linda.