Shadow Meter Coil Rewind?
11-19-2008, 09:57 PM
etech
Member


Posts: 242
Joined: Dec 2007 Location:
Re: Shadow Meter Coil Rewind?
I successfully managed to rewind the coils of both defective shadowmeters I have here. The first thing I did was to disassemble the shadow meters.
Disassembled shadowmeter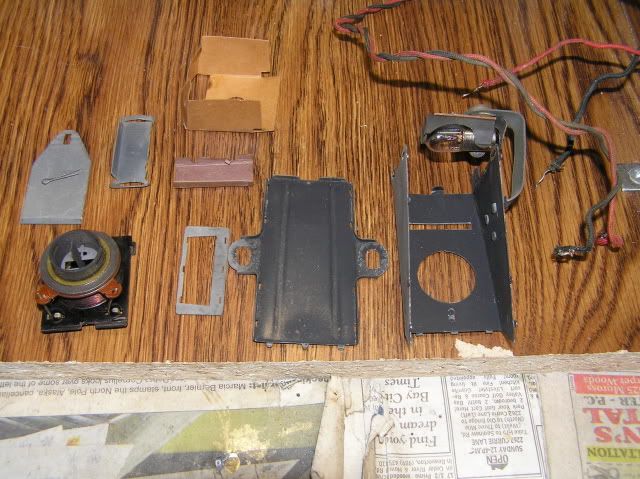 Then, I stripped the old wire off the bobbins. On the first one, I actually unwound or spun the wire off of the old bobbin. I decided that it took too long to do that, so on the second bobbin, I just cut the old wire off with an Exacto knife. That was indeed much faster.
Stripped bobbin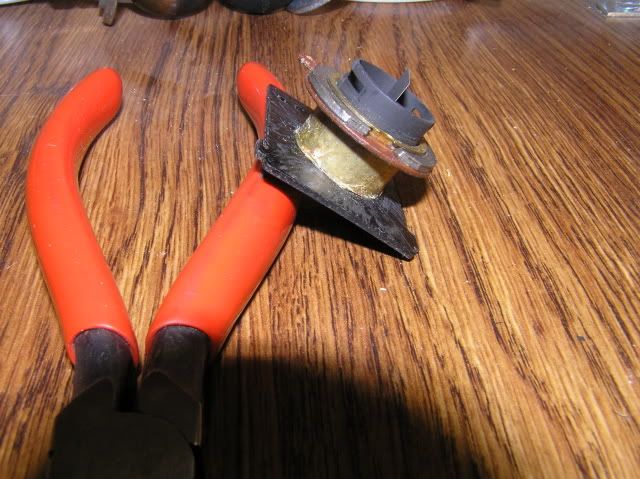 After that, I had to find a way to mount the bobbin assembly to the winder without destroying the vane. There was 7/32 hole in the rear of the bobbin, I found that I was able to use a 1/4 - 20 bolt and thread the hole in bobbin. Following that, I cut the head off of a 2 inch long 1/4 - 20 bolt and used it for a mounting shaft, threading it into the rear of the bobbin. I put a drop of super glue on the shaft at the bobbin surface just to hold the bobbin temporarily in place as the shaft was turned in the winding machine. Also, you have to be careful not to thread the 1/4 - 20 shaft too far into the bobbin, as the vane will be damaged.
Winding machine fitted with shadowmeter bobbin - shown partially wound.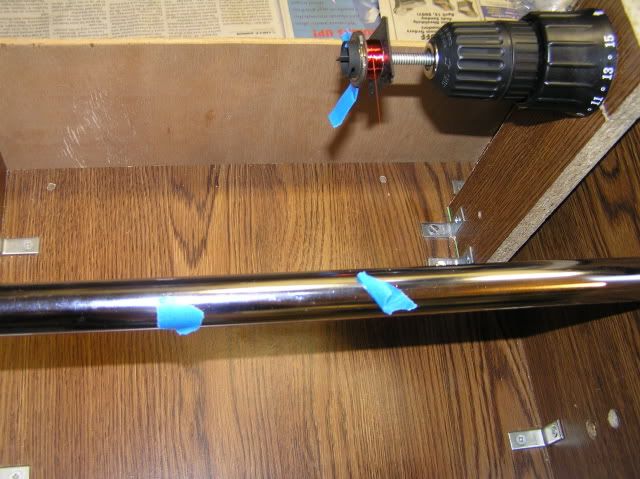 I used #40 wire and wound the bobbin until it was full. I measured the resistance of each new coil. The first ended up at 1290 ohms and the second ended up at 1270 ohms. Not bad since I took no measurements until the bobbins were full. Both original working shadow meters I have here measured between 1100 and 1200 ohms, as supplied by Philco. I tested each of the newly wound shadowmeters using a 9 volt battery. Both operated just fine, providing a nice deflection with the 9 volt battery. All I had to do then was finish reassembling the shadowmeters. They went together easily and work fine.

BTW, Here are a couple pics of my homebrew winding machine, in case you haven't seen it.
Winding machine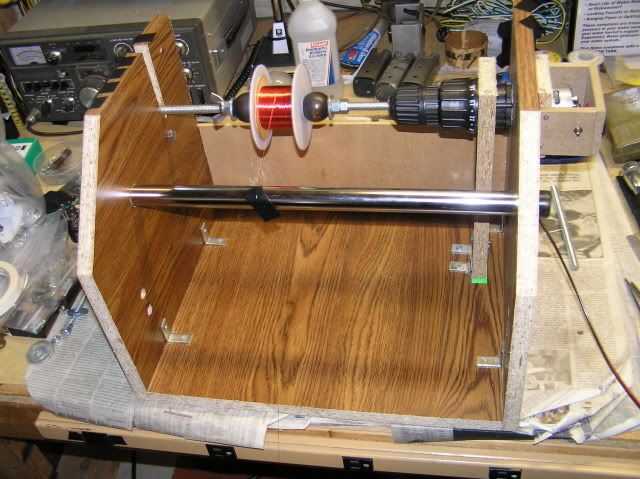 Foot switch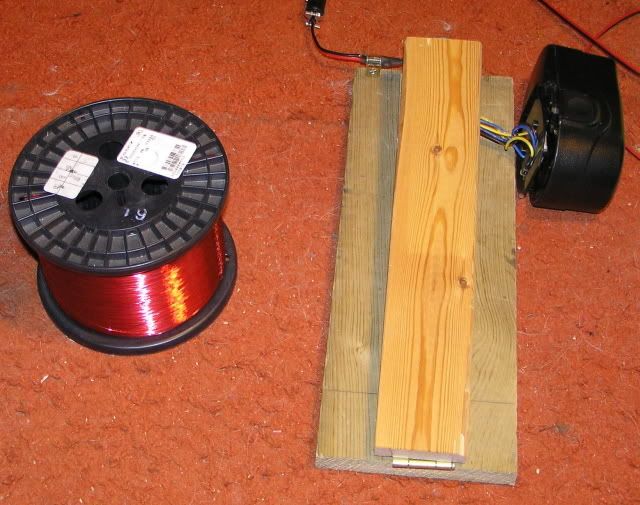 Ed
11-19-2008, 10:05 PM
BDM
Senior Member


Posts: 394
Joined: Sep 2007 Location:
Re: Shadow Meter Coil Rewind?
Darn, our server at work won't allow me to view the pics

Regardless, nice job Ed!!

I'll check this out at home.
---
-Brian
If you collect or are interested in antique telephones, please visit Classic Rotary Phones
http://www.classicrotaryphones.com/forum/index.php
11-20-2008, 07:12 AM
Texasrocker
Phorum Expert


Posts: 917
Joined: Jun 2007 Location:
Re: Shadow Meter Coil Rewind?
very nice job indeed etech!!... I can see you probably spent more time building your winding-machine than rewinding the shadowmeter coils? (hee hee) I WANT ONE ( a coil- winder) too !! GREAT JOB!!! Congrats!!! I need some blueprints to build me a winder like yours!! AWESOME!!!

11-20-2008, 02:51 PM
etech
Member


Posts: 242
Joined: Dec 2007 Location:
Re: Shadow Meter Coil Rewind?
Randall,
I originally got the plans from RadioFixer (Gary) who frequents the Phorum from time to time. I believe he published these plans for his radio club back in the U.K. I still have the plans and will email them to you if you like. Gary used an old battery operated drill motor for his. Since I didn't have one, I went to Harbor Freight and bought the 3/8 variable speed drill motor I used for about $14 on sale. Other than that, and a few bucks worth of hardware, the rest was scrap wood I had around the shop.

Ed
11-20-2008, 11:44 PM
Ron Ramirez
Administrator


Posts: 4,863
Joined: Sep 2005 Location: Ferdinand, IN
Re: Shadow Meter Coil Rewind?
Ed

Could you please post these plans here in the Phorum under a new thread?

I'm sure a lot of us would be interested in this...myself included.
---
--
Ron Ramirez
Ferdinand, IN
11-21-2008, 04:00 AM
Jim Berg
Member


Posts: 60
Joined: Oct 2008 Location:
Re: Shadow Meter Coil Rewind?
Nice job on the coil rewind job. That winder looks a lot better than a Morris coil winder unit. Plans would be nice and looks like a reasonable cost too.
11-21-2008, 06:10 AM
etech
Member


Posts: 242
Joined: Dec 2007 Location:
Re: Shadow Meter Coil Rewind?
I am waiting for permission from Gary (Radiofixer) to distribute his plans for the winding machine. I sent him an email and should hear from him soon. There are two PDF files. One is 5.32mb and the other is 3.7mb. We would need to find someone to host these files on their server, at least temporarily, until everyone who wants them has had a chance to download them. Otherwise, my only other alternative is to email the plans to those who want them.

Regards,

Ed
11-21-2008, 08:18 PM
DeckApe
Senior Member


Posts: 350
Joined: Jul 2008 Location:
Re: Shadow Meter Coil Rewind?
Wow... that is a BRILLIANT piece of machinery.
The method I had thought of involved tracking down a watchmaker's lathe, or possibly some general cleverness involving a model train engine and a TYCO transformer.


User(s) browsing this thread: 1 Guest(s)