Parts Resources - Parts, Tubes, Supplies, Etc.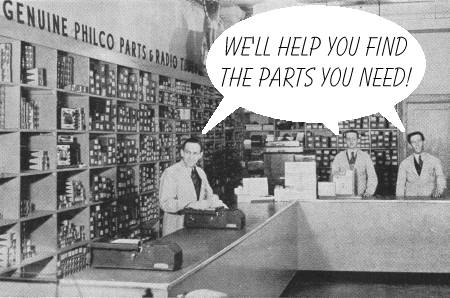 Welcome to the PHILCORADIO.COM Resources Index.
Here you will find parts and services available for your Philco or other vintage radios.
Two pages of Resources are available, arranged as follows (click the link below which you prefer):
Resources Arranged in Alphabetical Order
Resources Arranged by Parts & Services
On the Resources pages, you will find several sellers of parts such as tubes, capacitors, resistors, wire, transformers and other items used in vintage Philco radios. You will also find people who can repair phonographs, rebuild phonograph cartridges, wind new transformers, etc.
Please remember that we do not sell tubes, parts, or other items!
If you are looking for books on the subject of vintage radio, visit our Bookstore.
I have a page of links to both Philco and non-Philco related websites. Here you will find a number of websites on various subjects which you may find interesting.