08-26-2010, 11:25 AM
btoher
Junior Member


Posts: 6
Joined: Aug 2010 Location:
Pinstripes Philco PT-12
Hi , I am looking for some advice on how to finish a $5 garage sale Transitone PT-12 .I arleady changed caps and found that there was a blown rectifier tube .This radio cabinet is in bad shape .Veener is loose and the whole cabinet is coming unglued .So no big deal to spray the black grill work seperately .My question is what can I do to replicate the light colored band that is along the lower part of the radio and boarderd with black pinstripes? Is it a photofinish ? Or just a good detailed opaque lacquered area ? This "band" is typical of many Philcos .I think to refinish this radio without it would be disappointing . I appreciate any pointers anyone has for this ! Thanks

Bill
08-29-2010, 07:48 AM
gary rabbitt
Senior Member


Posts: 252
Joined: Nov 2005 Location:
Re: Pinstripes Philco PT-12
Hi Bill, and welcome!
That strip is photofinish. If you can't save yours with touching up, you will have to decide if you want to make your own.
Here is the site that talks about replicating a photofinish.
http://www.philcoradio.com/schooley/index.htm
On yours though, I'd take several close up, high resolution photos of the strip. IN fact, you can use that for a basis for your created strip.
Stewart Schooley can help you, just send him an email, and he has other info that is not on the site.
Note by site admin: Unfortunately, Stewart Schooley passed away in April 2009. I am honored to be able to continue to host his web pages, now on Philcoradio.com - see revised link above.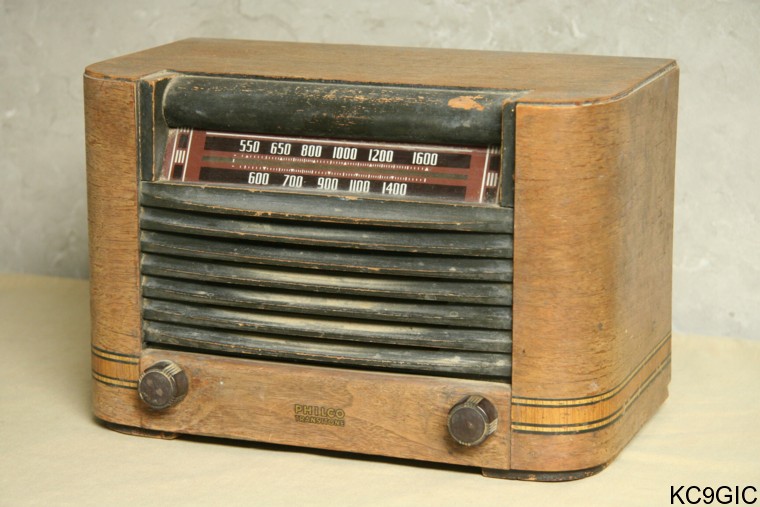 Now, I assume you'd want to keep your set original, so making photofinish would be the way to go. However, there are wood inlays that would take a little more work to install. I'd stay with the photo myself.
Having a photo base like the original strip would be good. Take shots of the best looking places. You can "extend" them in your graphics program to make a long strip. Color can be done with colored pencils or oil colors. The site will show the basics.
You may even be able to lay the side of your radio on the scanner and get a good hig res scan, then do some cleaning up of the image. If you get a scan, send me a copy of what you come up with.
Once you have a strip image, you can post it here for others who might want to make a strip.
You will have to decide if you can reuse the original veneer, regluing to back on. Do the photo strip as the last item before topcoating with clear.
Good luck,
Gary.
09-04-2010, 11:50 AM
btoher
Junior Member


Posts: 6
Joined: Aug 2010 Location:
Re: Pinstripes Philco PT-12
Hi , I tried to post photos last week . Must have done it wrong . This is the stripe and a attempt at making it new looking again. I need to run out and get some polyacrlic .
But I have been side tracked by a major project. I have one of those shuffle bowling alleys to go through .If you've ever seen the insides of one of these from around 1973 you know I'll be awhile on that .But I will try to do this also little at a time . In looking at the laser printer copy I can't see how this will look good when transfered . I'll keep and open mind and try it. Hard to tell when it is on paper I would guess .But I am think that masking this off and spraying or using lacquer markers might be worth a try also .That would be tough to do but possible
bill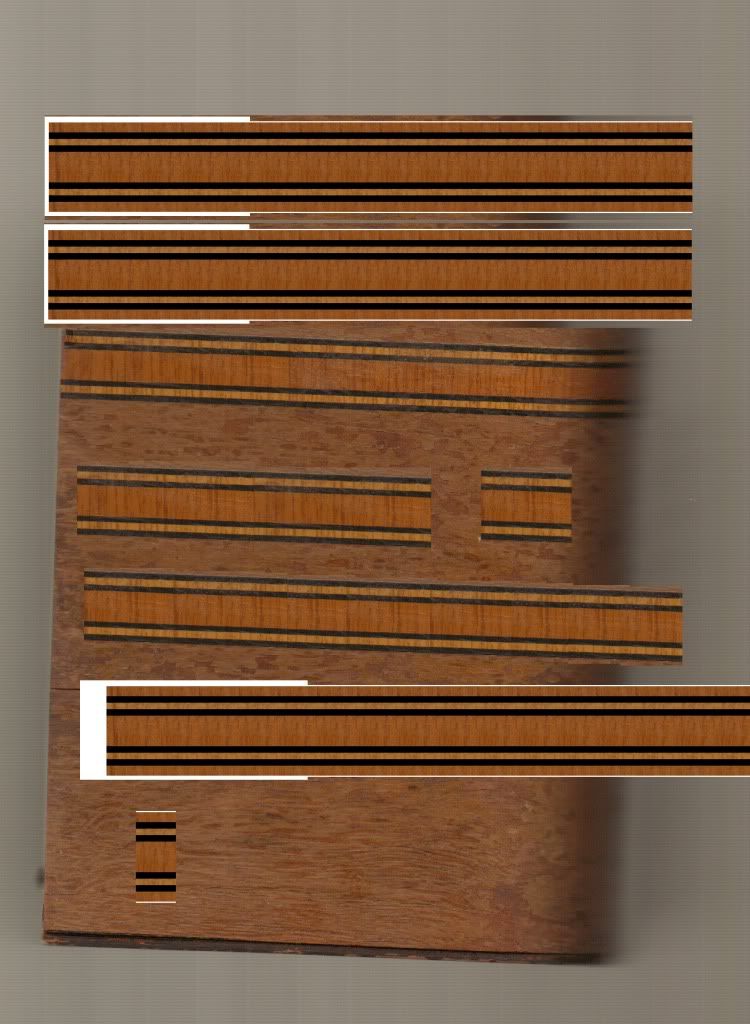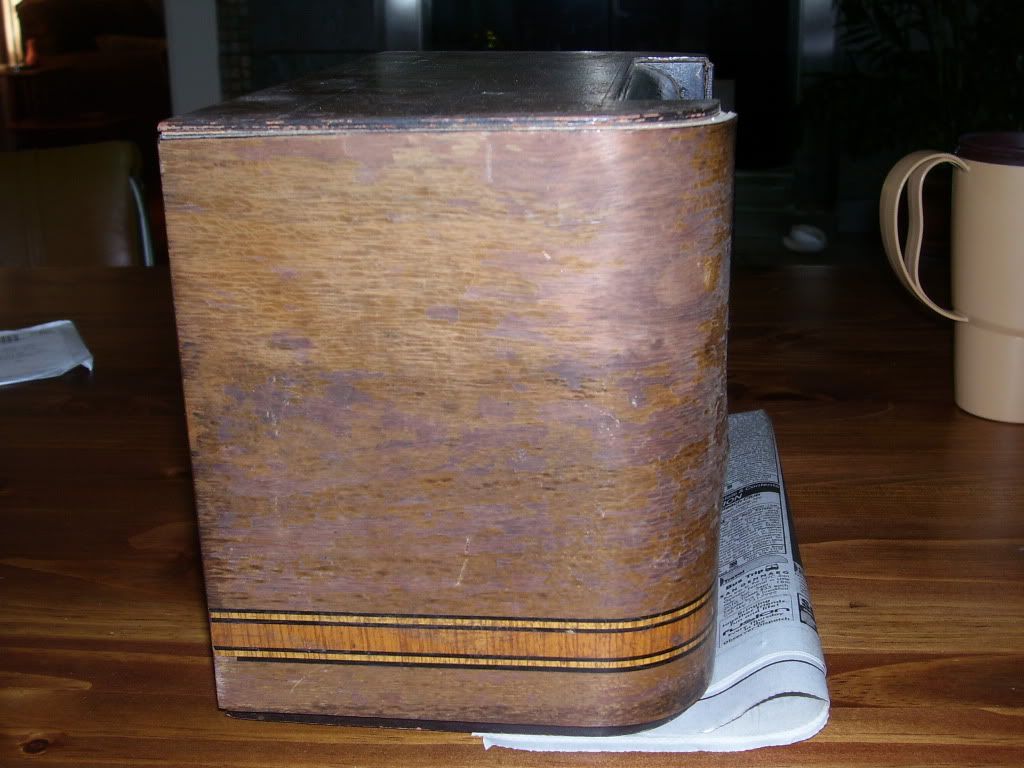 09-26-2010, 03:12 PM
btoher
Junior Member


Posts: 6
Joined: Aug 2010 Location:
Re: Pinstripes Philco PT-12
Hi : I finally got around to this radio . I think it worked out ok and wanted to pass along photos as promised.
I tried the photo finish transfer method on scrap unfinished wood .It worked good ,color darken a bit in the process.
When I did it to t he radio it was over the lacquered base coat .
The dark color from the base coat bled into the light areas of the stripe . Maybe I needed to seal over the lacquer first?
At any rate I stripped the side of the radio again and refinished the base coat . This time I put down used the poly as a glue and laid the laser print face up in it. Kind of a paper sticker . The edges have a thickness that can be felt and seen slightly . What I did to minimize this was brushed over with poly (which can be coated thicker than lacquer in one coat) over the entire stripe .Then after everything dried overnight I clear coated with lacquer a few times . Maybe satin would be a better choice? All said in done the results are ok . Not perfect but not bad. I have walked by many radios of this type because I did not think they could be refinished easily. But I think if you are satisfied with this appearance level as I am the process was not to bad. It 's not going to wind up in a museum ,that is for sure .But it is not going to a dump either .
I am happy and will hopefully do a better job next time !
bill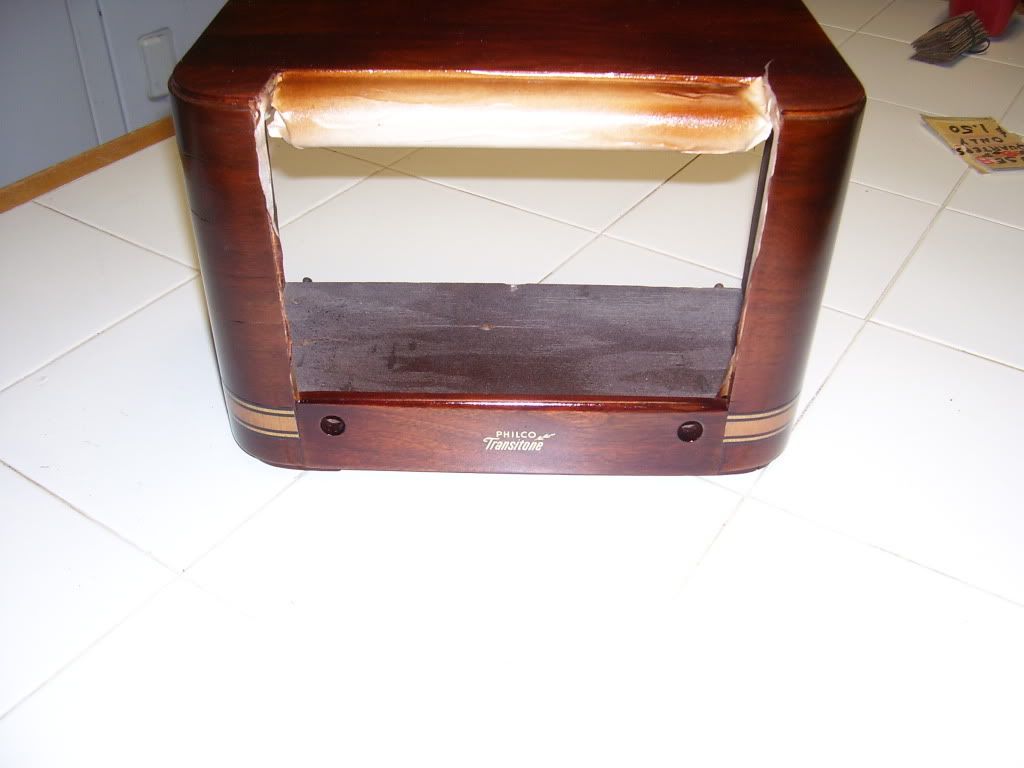 User(s) browsing this thread: 1 Guest(s)