09-26-2011, 11:27 PM
w4rtc
Member


Posts: 227
Joined: Aug 2010 Location: Kentucky
Should I or should I not
Hi All
Here is the cabinet for my 39-116, the question is: should I do anything with the finish or leave it alone. It is not perfect, but can I with limited (and I mean limited) ability to refinish it,

I am thinking I will leave it as is. the front and sides look pretty good but top is not too good. Also the speaker grill cloth is faded but is o k. So all comments are welcome. Joe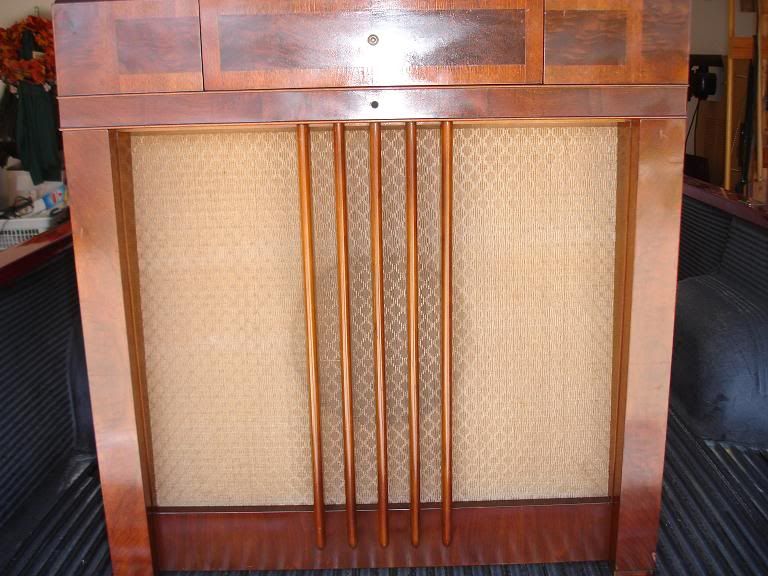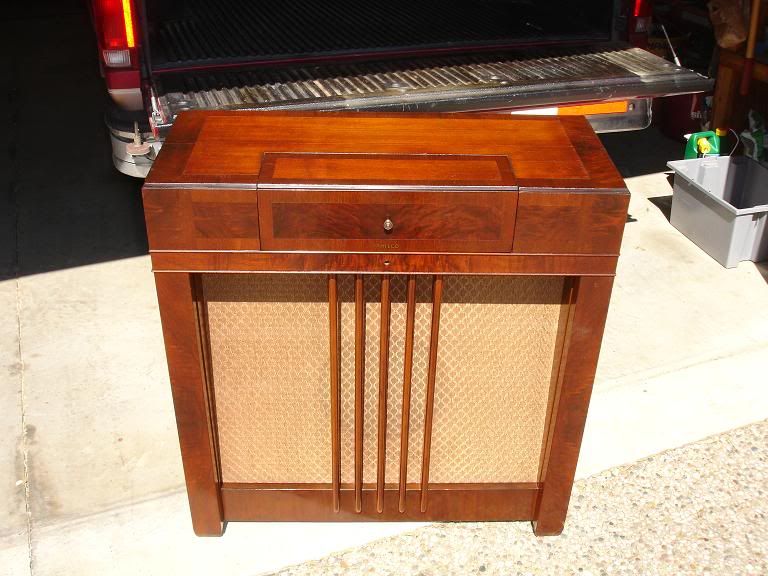 ---
Joe Bratcher near Louisville, KY
09-26-2011, 11:45 PM
Dave
Member


Posts: 93
Joined: Feb 2010 Location: Macon, GA
Re: Should I or should I not
Looks good as is. I would just give it a rub down with a little bit of Howard Restor-a-finish.
09-27-2011, 12:18 AM
PHILLYPHILCO
Junior Member


Posts: 14
Joined: Sep 2011 Location:
Re: Should I or should I not
I think It looks great the way it is. I always thought an item was worth more in it's original state, yet I go on the bay and radio's that are given freakish Steinway finishes are fetching good money....go figure....
09-27-2011, 01:55 AM
Re: Should I or should I not
Hi Joe,
The finish on your set looks to be in pretty good shape. I wouldn't try to refinish it. Like Motorola man mentioned, I would try Howard Restore A Finish on it. I've used it on a couple of sets in my collection where the finish was old but okay, and I was very happy with the results

! It's also very easy to use. I found it at my local home improvement store and I believe that Home Depot carries it as well. Good luck with it!
09-27-2011, 02:07 AM
Ron Ramirez
Administrator


Posts: 4,867
Joined: Sep 2005 Location: Ferdinand, IN
Re: Should I or should I not
I'll ditto the comments above; it looks nice in the photos. Try some Howard Restore-A-Finish in Walnut, and see how it looks then.
---
--
Ron Ramirez
Ferdinand, IN
09-27-2011, 02:51 AM
Paul Philco322
Member


Posts: 233
Joined: Jun 2011 Location: Massachusetts
Re: Should I or should I not
I agree with the gang, Howards is pretty good stuff, I just made a crummy looking cabinet very respectable with a good cleaning, one application of Howards, and the some Orange Bee's wax. Polish well with a soft cloth, voila!

Paul
09-27-2011, 02:59 AM
TA Forbes
Deviate Emeritus


Posts: 1,412
Joined: May 2010 Location: Clayton, NC
Re: Should I or should I not
Fine looking set. Bringing back the original finish is always preferable to restoration unless the cabinet is just too far gone.
09-27-2011, 02:28 PM
Chuck Schwark
Super Moderator


Posts: 1,098
Joined: Oct 2005 Location: Evanston, IL
Re: Should I or should I not
Looks great!

Follow Ron's suggestions. You never find them that good, generally, depending on previous owner(s).

Chuck
---
Chuck Schwark,


The Philco Repair Bench



http://www.philcorepairbench.com
09-30-2011, 02:27 PM
AI2V
Member


Posts: 141
Joined: Dec 2005 Location:
Re: Should I or should I not
Another finish restoring method which I use on all of those thick gloss finishes is a rub down with liquid medium to coarse automotive paint compound followed by a paste wax. This method cleans the junk off, and restores a spectacular original gloss finish.

Although it sounds outrageous, after the compounding I wipe over any scratches and crevices (or the entire radio) with a dilute solution of walnut wood stain. It doesn't stain the wood or lacquer but permanently eliminates the minute and major scratches and wear. Just wipe it off with a rag before waxing.
---
Pete AI2V
09-30-2011, 06:57 PM
DeckApe
Senior Member


Posts: 350
Joined: Jul 2008 Location:
Re: Should I or should I not
Adding my two cents' worth to the above, I concur. Go with the minimalist approach. It looks pretty doggone good from where I sit.
09-30-2011, 08:12 PM
w4rtc
Member


Posts: 227
Joined: Aug 2010 Location: Kentucky
Re: Should I or should I not
Hi all
oK I am going to clean it and leave it as is. Thanks to all who commented. Your input is valuable. Joe
---
Joe Bratcher near Louisville, KY

User(s) browsing this thread: 1 Guest(s)