01-05-2012, 11:32 PM
help with philco ID
Have a possible radio I might be getting but not sure of the model? Also is it ac or dc? what are the two holes for beside the speaker? I think its a model 65?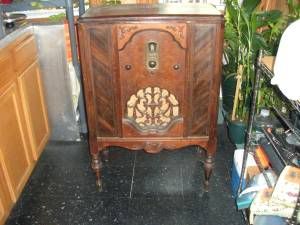 Thanks Doug
01-06-2012, 04:09 AM
7estatdef
Phorum Expert


Posts: 1,479
Joined: Dec 2009 Location: PA
Re: help with philco ID
This is what I can tell you about it. It is an AC model (has a power transformer) Is in a 1929 Lowboy cabinet with an odd speaker grille. If I had to guess I'd say your right (65) but I'm not real familiar with the early large chassis set except for the 87 and 95. You can probably figure it out by the tube count and the type of tubes. The older sets will use 26's and the newer ones will use the 24A's
Terry
01-07-2012, 02:22 AM
Re: help with philco ID
got sold to someone else before I could get it sigh ... ce la ve Doug
01-07-2012, 04:00 AM
Ron Ramirez
Administrator


Posts: 4,871
Joined: Sep 2005 Location: Ferdinand, IN
Re: help with philco ID
Looks like it was a model 65, from the back view...but the grille cutouts are unlike any 1929 Philco I had ever seen before. I wonder if the original grille was damaged, and this was a replacement cut by a woodworker?
---
--
Ron Ramirez
Ferdinand, IN

User(s) browsing this thread: 1 Guest(s)